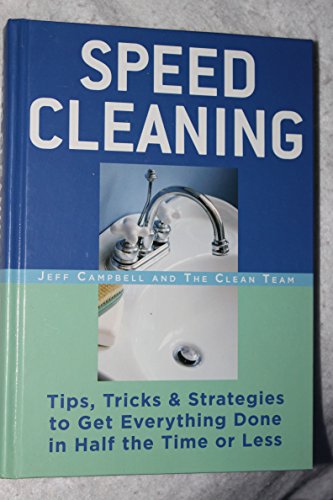 This photo is from: https://pictures.abebooks.com/isbn/9781594862748-us.jpg.
I thought I'd start a blog about cleaning and use a quote I got from a book in our library called Speed Cleaning. The book was published by Rodale Press in 2005 and written by Jeff Campbell and the Clean Team and copyrighted from 1985-2016. Their website sells some products for less cost than those that I bought elsewhere. I obviously don't know the quality, but that was impressive. Their website is www.speedcleaning.com.
I can't give the author's exact quote, but it was about being mindful of what I'm doing when cleaning so I'll enjoy it more. Keeping focused on where I'm standing, what is nearby so I don't trip over it, and paying attention to what I'm doing throughout the job came up as well.
I've heard it said that people find fulfillment in whatever they're doing if they give full attention to the activity (if it's not a painful thing).
So, when cleaning the refrigerator if I concentrate on the fingerprints disappearing and a shine taking their place, the endorphins in the brain should get released, right?
On another subject, on Saturday night, I made a mayonnaise cake and when I finished it, it felt so good to see it completed and not sagging in the middle. I went to bed after blogging about it. At midnight, my husband noticed it sank to the middle but he didn't want to disturb my rest. One of the ladies at our church is such an encourager. She told me it really didn't look bad. I ended up running out of mayonnaise and used a substitute vegan style for the last half cup. I ran out of white sugar and used a little less brown sugar instead. It tasted the same as normal and looked similar. I ate a bit too much of it, so I put the left overs in the freezer. Out of sight, out of mind. That's one food item I don't want to be mindful of. I gained weight after eating it two days in a row.
Do you have something you're struggling over? I remember reading a book on weight loss by Steve Arterburn some years back. He took time to taste his food and enjoy the meal. This is a more recent book by him that I haven't read, but it sounds good.
 This photo is from: https://www.christianbook.com/solution-spiritual-emotional-physical-permanent-weight/stephen-arterburn/9780849947261/pd/947260?event=ESRCG#CBD-PD-Description.
I believe it's an updated version of the book I read with more offerings: exercises and other beneficial information.
I hope you are keeping your eyes on Jesus in this world with the turmoil and with the good. I heard my daughter read some Psalms today after telling me she's concerned about her elderly and much loved cat. He's not eating well. God's Word is a comfort. She's experiencing His peace in the midst of her trial.
May God bless you.